Regular price
Sale price
$32.70
Unit price
per
Sale
Sold out
Lume Deluxe Switch Sample Pack includes:
Gateron North Pole 

Linear

(Yellow) 2.0
Gateron Oil King 

Linear

Gateron Ink V2 Black 

Linear

Gateron GoPolar Azure Dragon V2 Tactile 

Gateron CJ 

Linear

Gateron

KS-3 Milky Yellow Pro Linear

Gateron Baby Kangaroo Tactile 

C³EQUALZ X TKC Banana Split Linear

C³Equalz X TKC Tangerine

Linear 

(67g)
C³Equalz X TKC Tangerine

Linear 

(62g)
C³Equalz X TKC Kiwi T

actile 

Durock POM Linear

Durock Dolphin Linear (Silent)

Durock Sunflower T1 POM 

Linear

Durock Shrimp 

T

actile (Silent)

Durock Daybreak

Linear (

Silent)

Durock T1

T

actile 

(

Silent)

Everglide Aqua King Linear (62g)

Everglide Aqua King Linear (67g)

KTT Strawberry 

Linear

 

Cherry MX Hyperglide 

Linear

 

Cherry MX Browns Tactile 

SP Star Meteor White 

Linear

 

JWICK Black 

Linear

 

JWICK Yellow 

Linear

 
We offer three packs:
Lume Variety (25 distinct switches) 
Lume Variety Plus (25 distinct lubed and filmed switches) 
Lume Ultimate (2 each and one of them is lubed and filmed - 50 total).
A wise man once said, "Variety is the very spice of life", spice up your build with Lume Switch Sample Packs! 
Add a Switch Testing Tray:
Lume Switch Testing Tray is designed to enhance your switch sampling experience, test these switches without having to build your board! 
The Lume Switch Testing Tray has two versions: Flat and Sloped (sloped version has a 5 degree tilt to simulate typing conditions, also displays your switches nicely as a decorative piece)
Lube used: Krytox 205G0. Film used: Lume Bear Film series - we'll cater the film type to the switch to give you the best experience possible.
Note: for the Lume Ultimate (50 switches), it comes with 1 testing tray. If you want an extra tray, you can buy it here. 
Check out the video below for more details about the switch testing tray: 
Share
View full details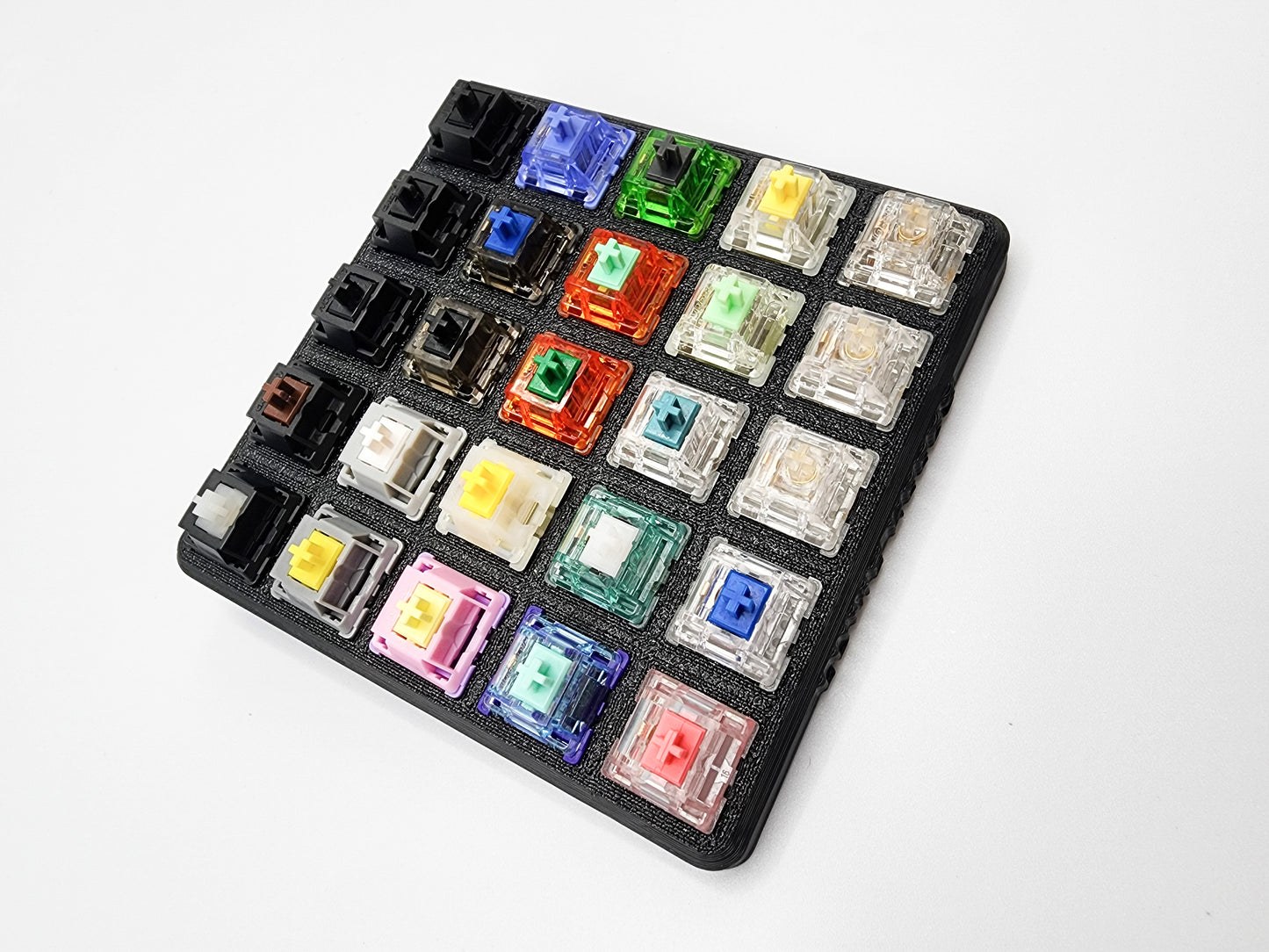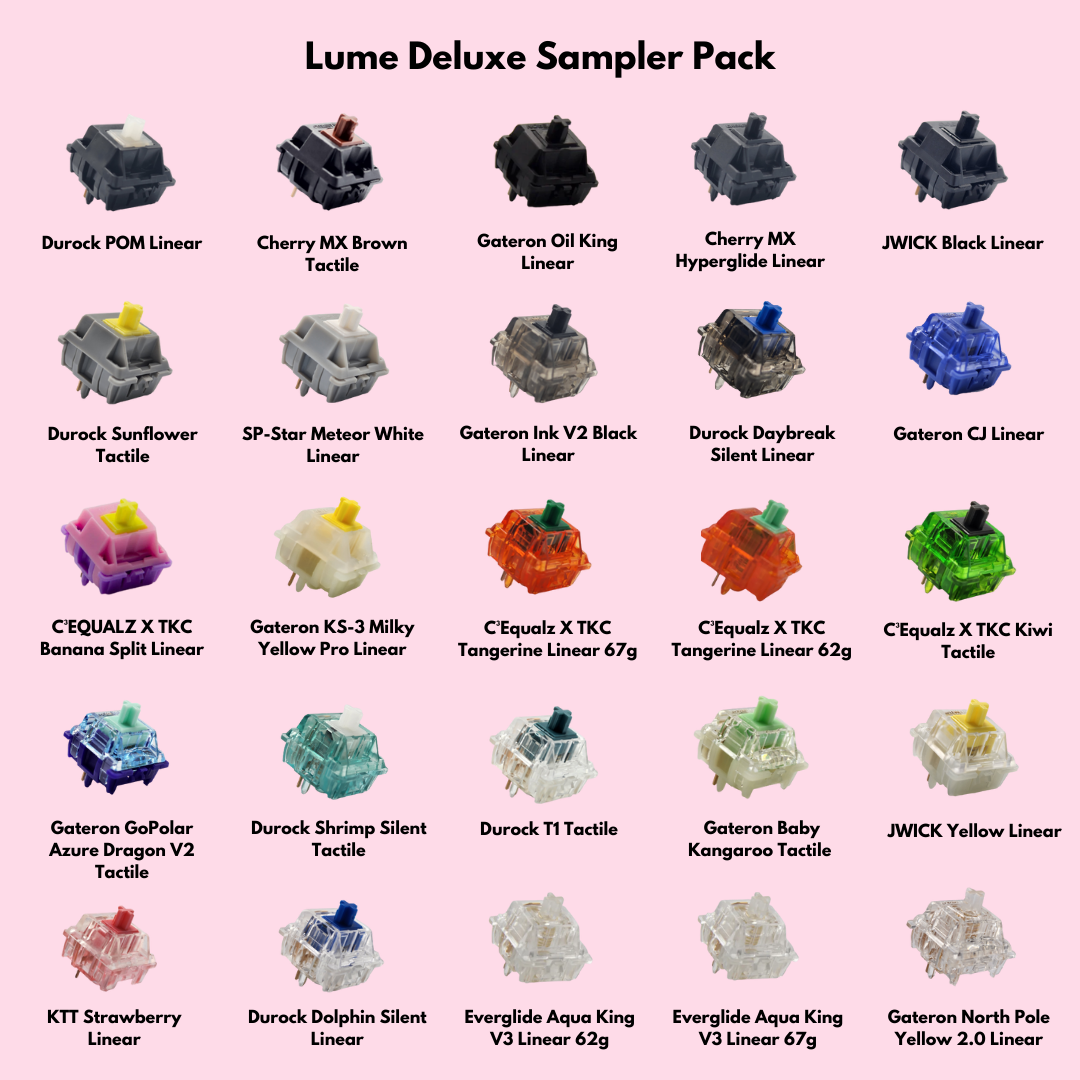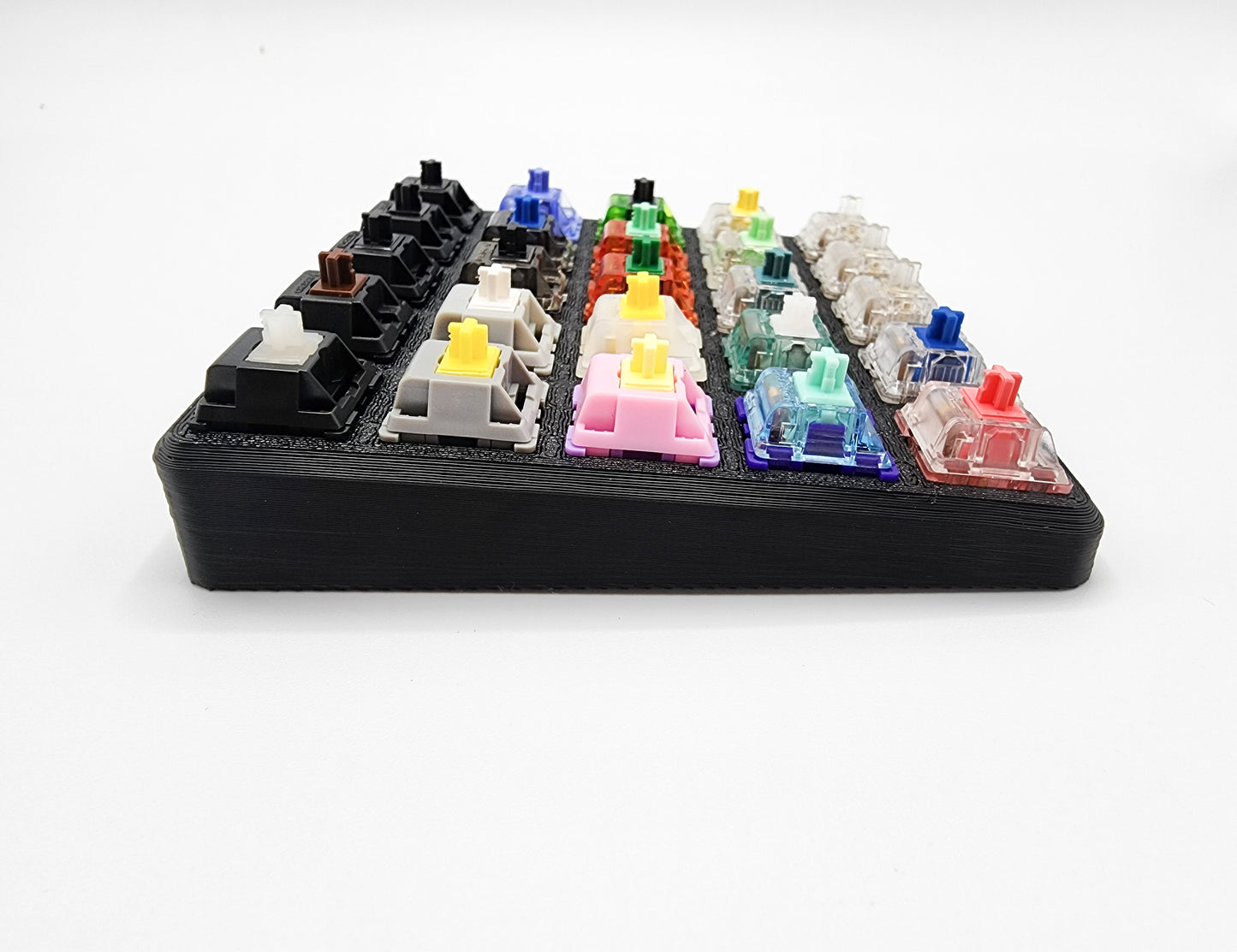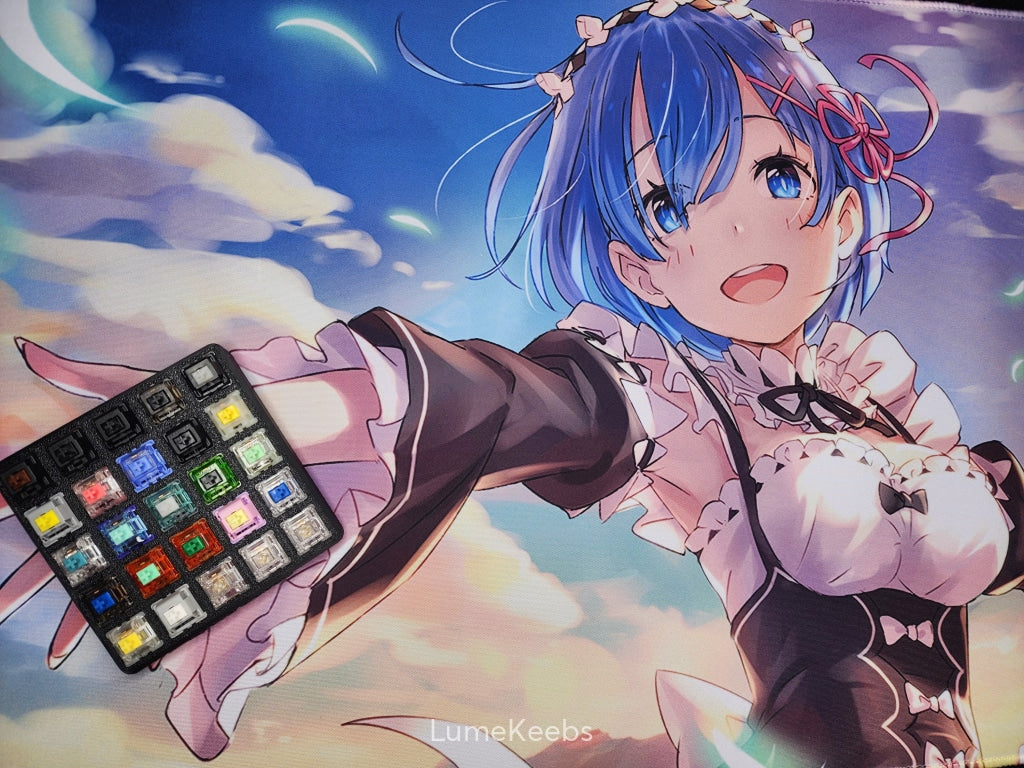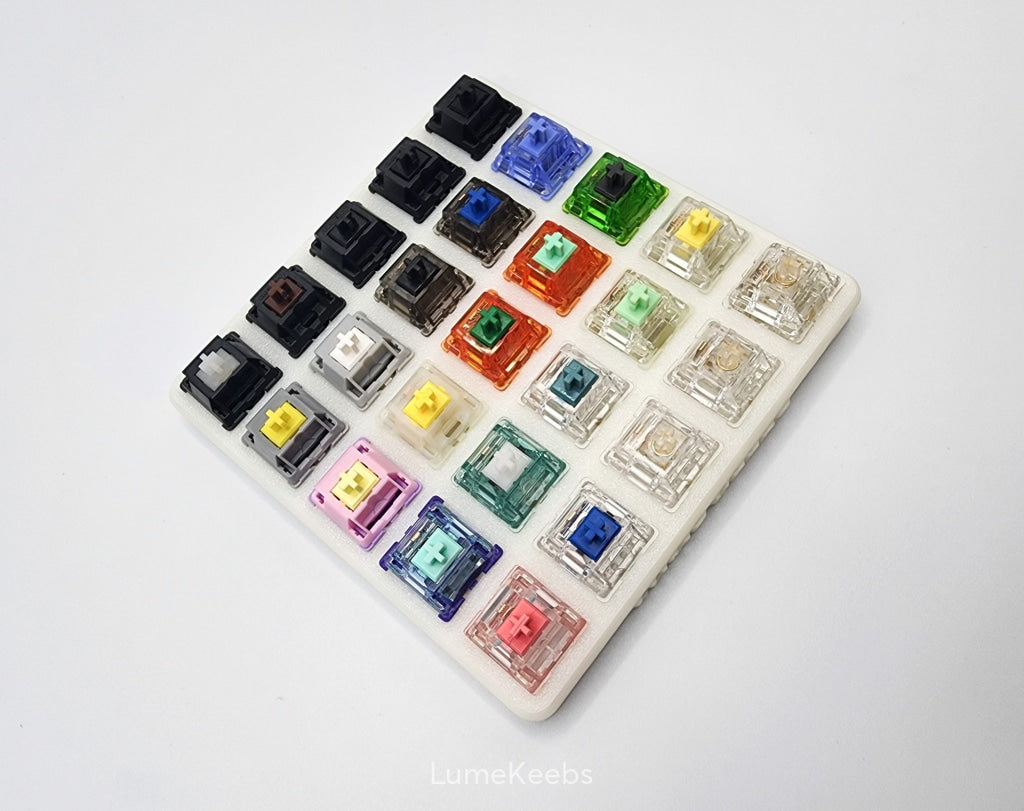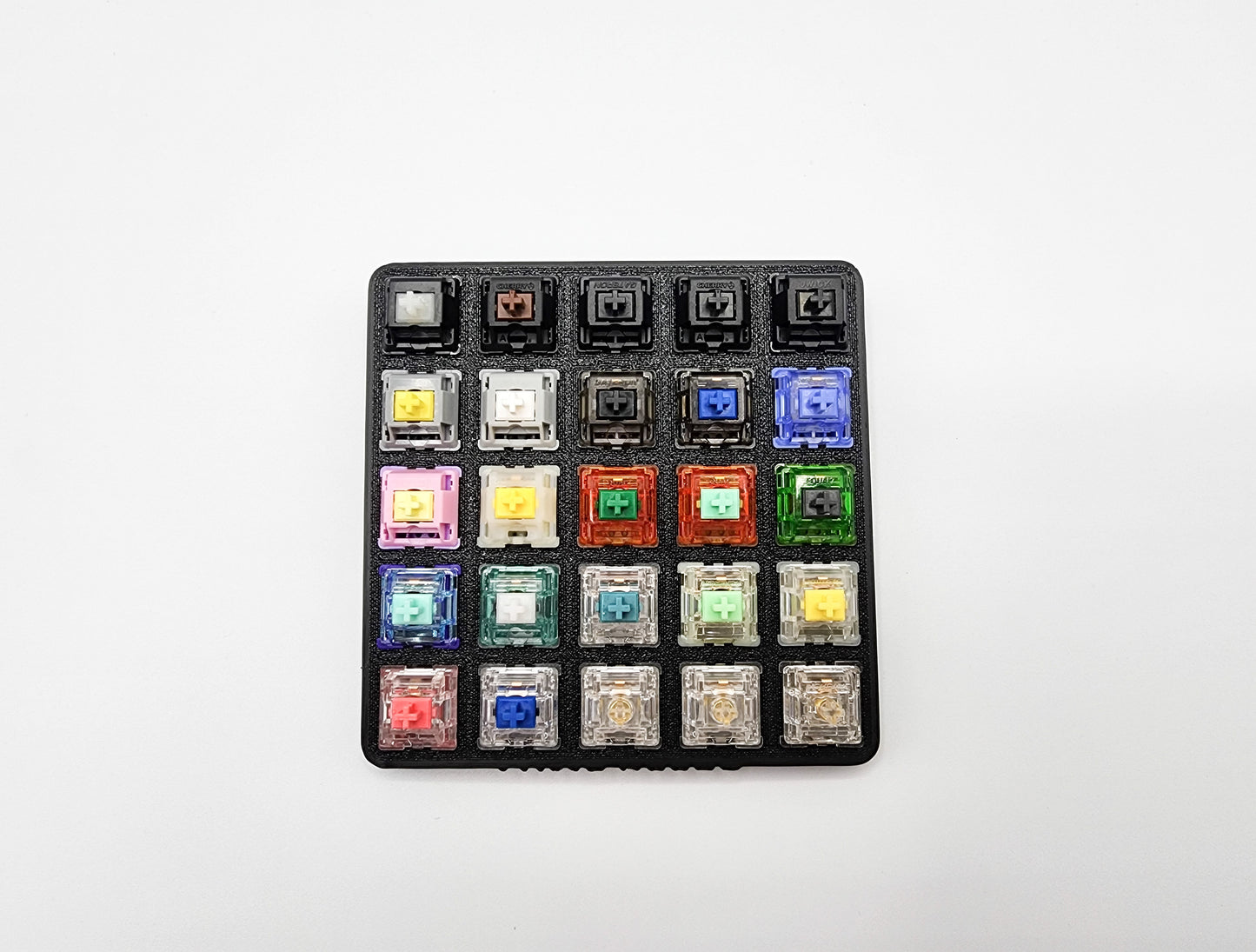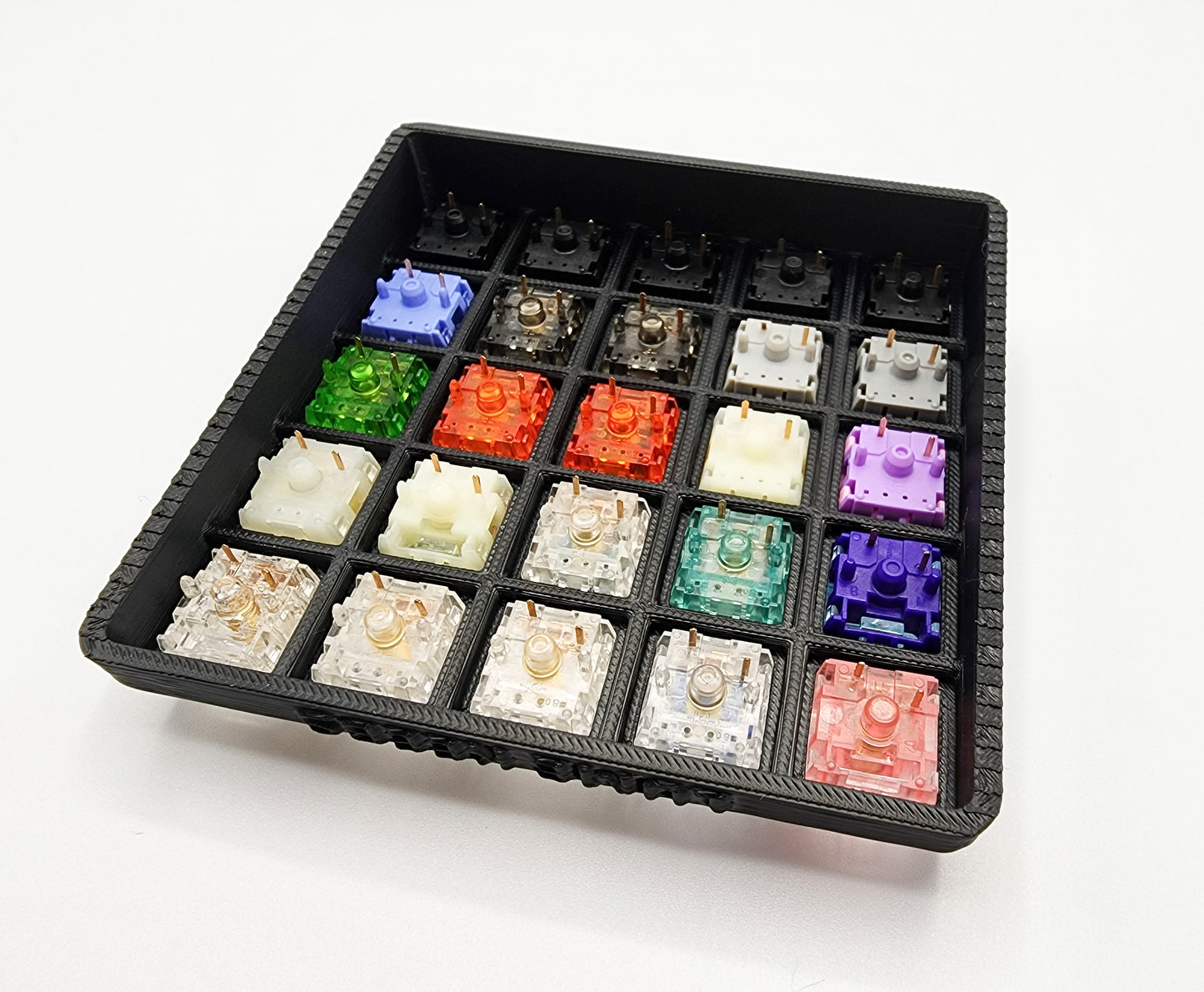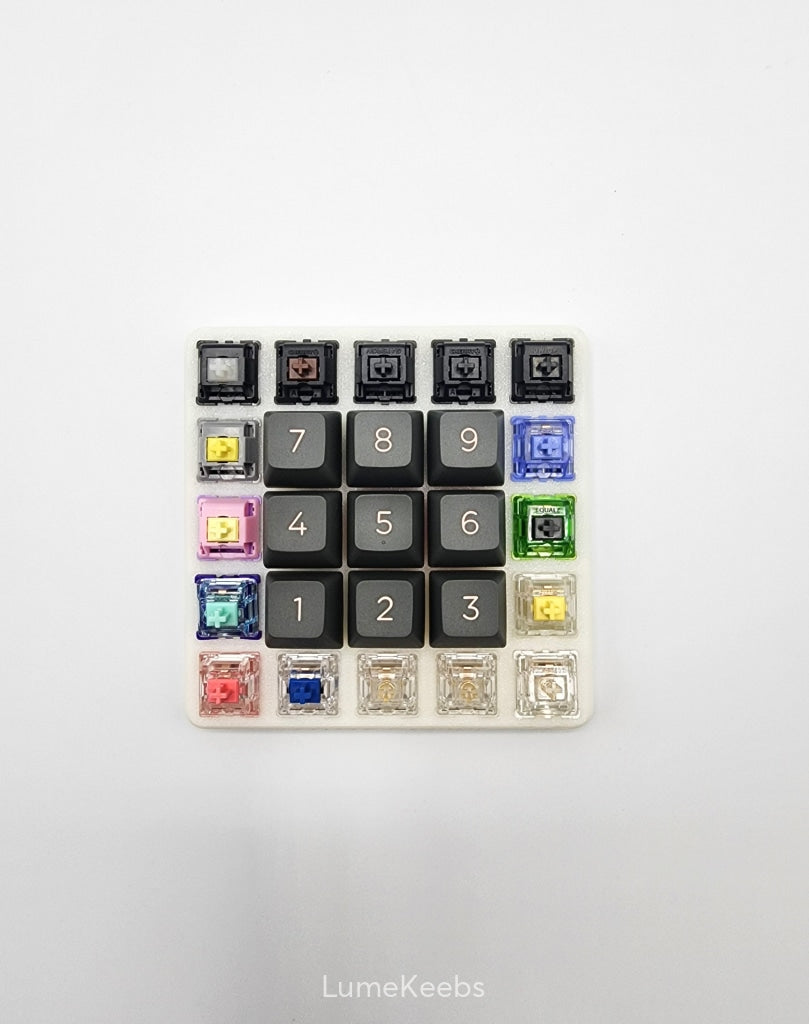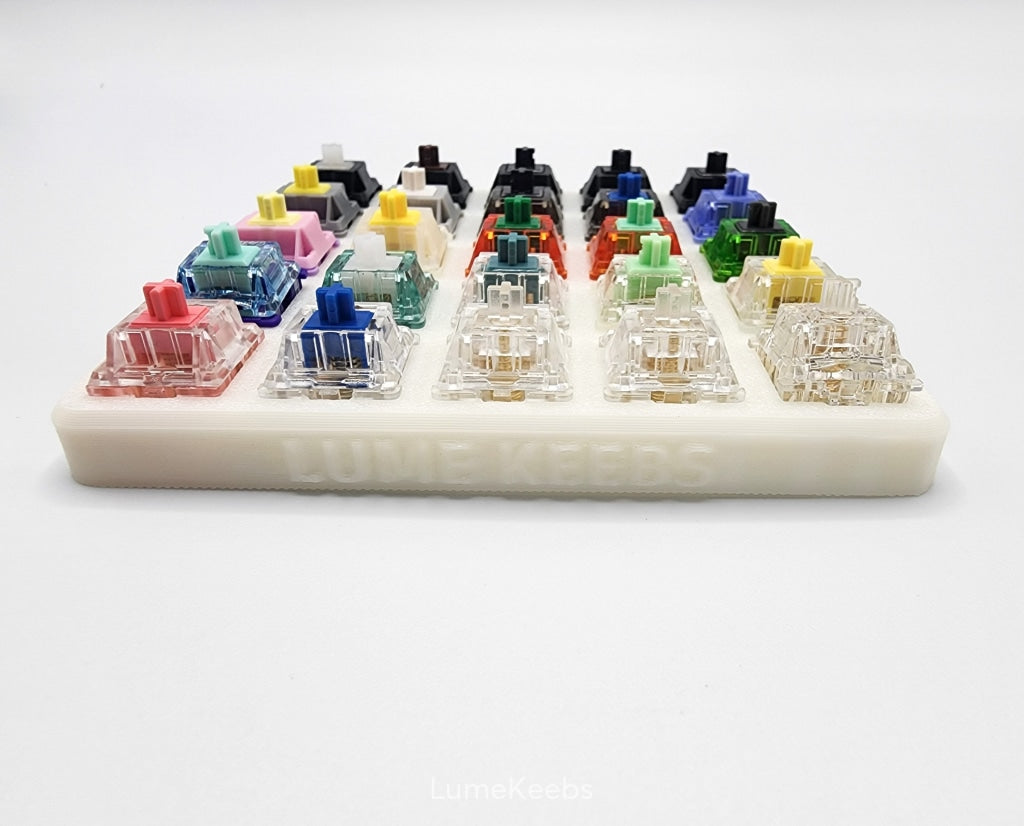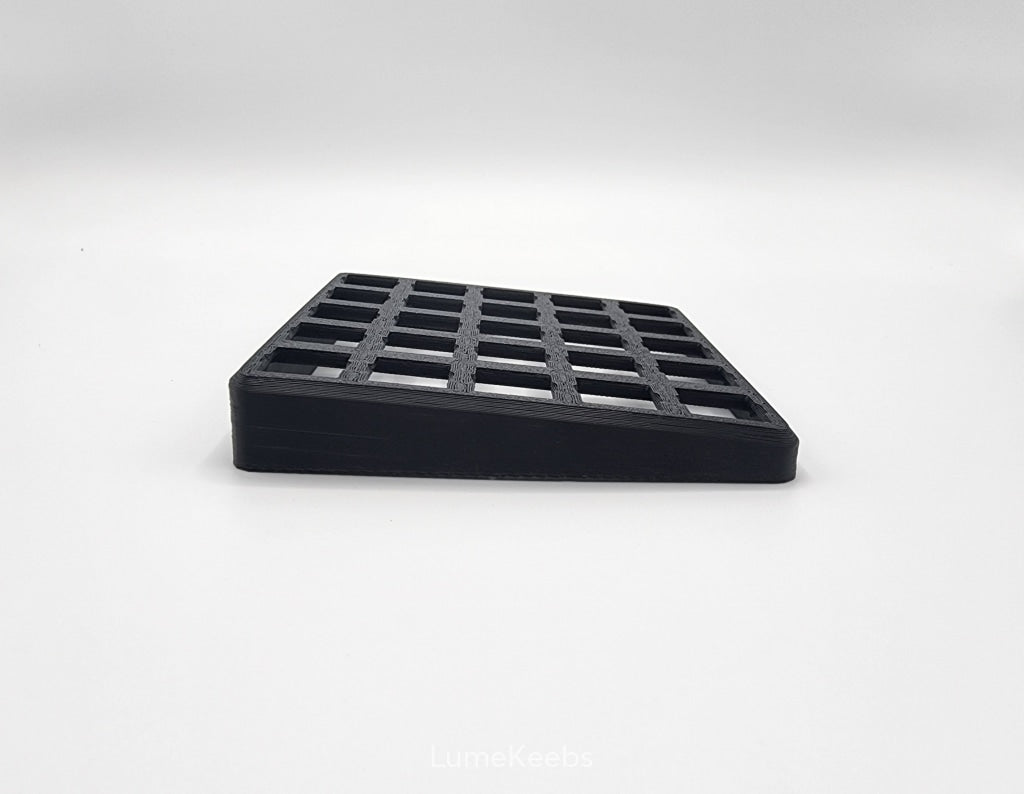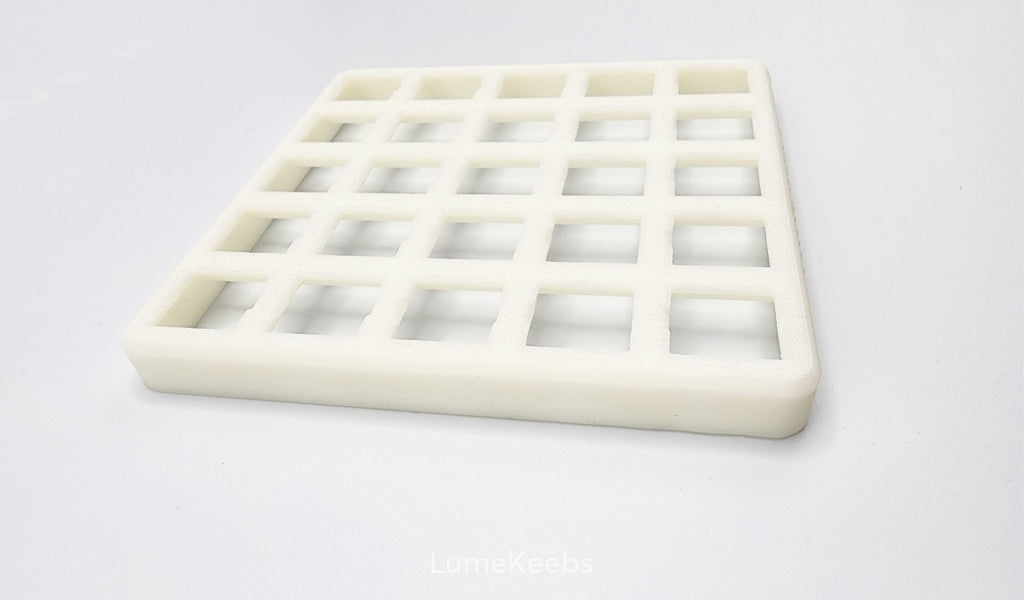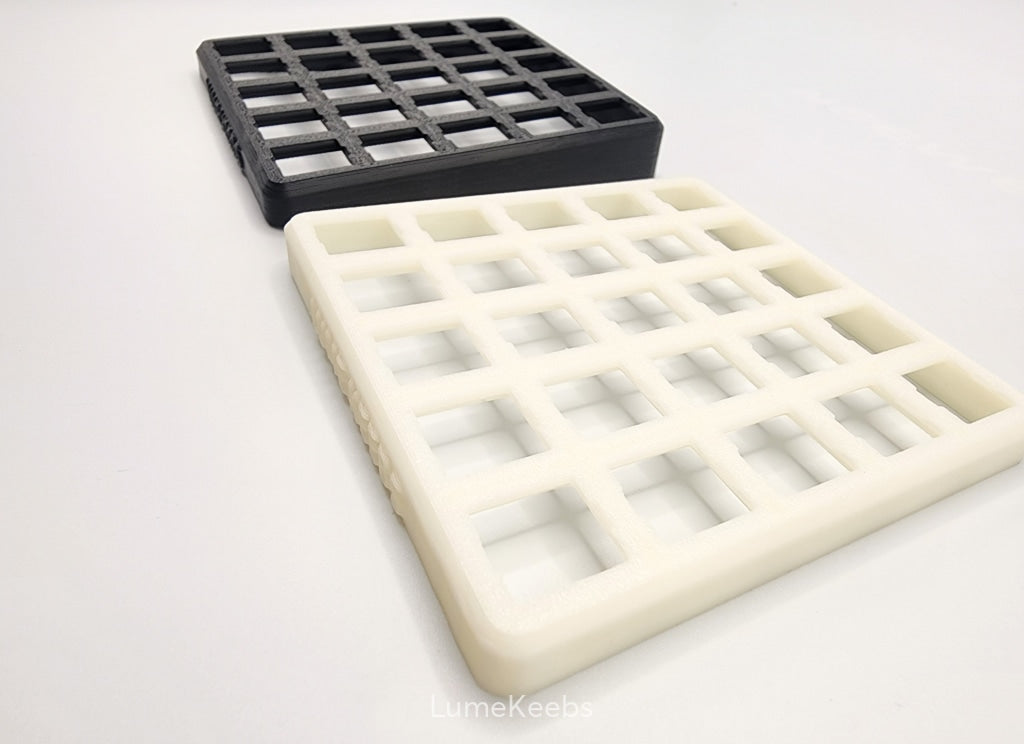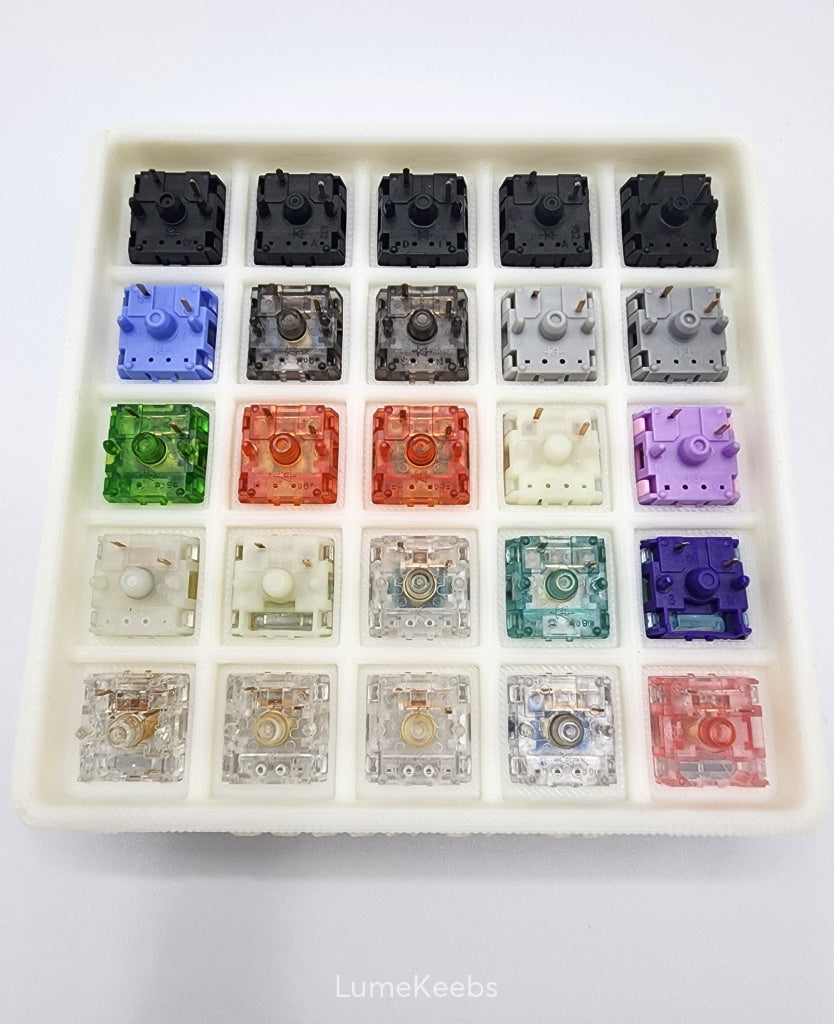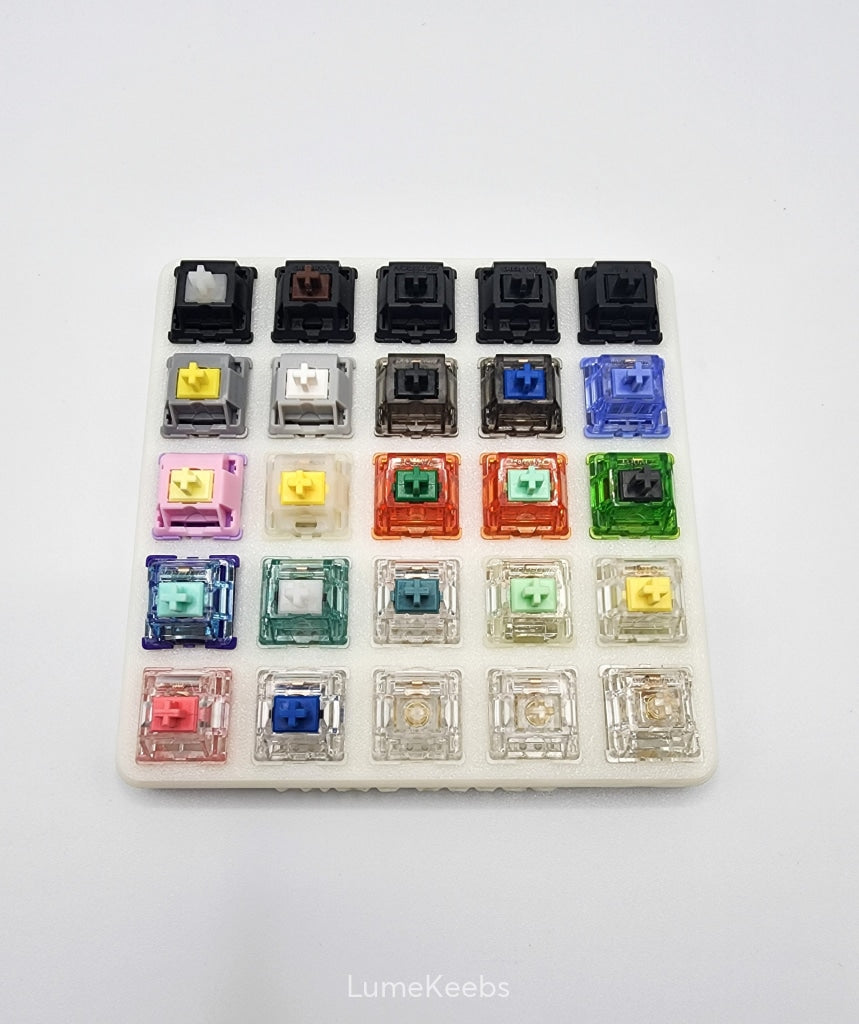 Starter Kit
This was my first starter set I've bought and the first order from this company. Everything arrived intact, quickly, and even got a little hand written note and an extra switch to try! I loved the banana splits and tangerines so much as I was expecting to, but also found another switch that I would have never gotten myself without testing first. I came back just a few days later and ordered 3 full boards worth of switches. Cant wait to upgrade some old and un-used boards. Great customer service and great product!! Would absolutely buy from them again.
Great sample of switches
Lumekeebs put together a fantastic sample kit. Lubing was top notch as usual. Great buy if you want to find the right switch for your next keyboard.
Amazing sample pack
If you found this store from googling sample kits, you're in the right place. Lumekeebs were more than accommodating for my request. They shipped my sample pack super fast and didn't even charge me extra for my custom request, despite my insistence to do so. I would've even done it to include keycaps but that's perfectly fine since I have a bunch of extras lying around. The point of this sample pack is for you to test out switches which gets the job done perfectly.
Great selection
Great selection of variety of switches! Had every switch I was looking to try out at a good price.
Very good sample kit
Great sampler kit of enthusiast switches. Only had two "complaints": 1) no generic keycaps included like most other switch testers provide, and 2) no legend included with the switch tester to identify what switches are where - I created my own paper back cover and listed the switches in their location so I could see what switches were what.
Overall great test kit!