Regular price
Sale price
$6.80
Unit price
per
Sale
Sold out
These are sold in packs of 10 each. 1 quantity refers to 10 switches.
The Gateron North Pole 2.0 is the newest switch from Gateron featuring a fully transparent body and unique stem material utilizing ink v2 housing material. Compared to the original version, the 2.0 added color identification area (yellow rubber) on the housing base to help distinguish these switch options.
Like the Everglide AquaKing, Gateron North Pole 2.0 yellow is made with a polycarbonate housing to match its deep sound profile as well as to offer maximum LED light passthrough for those of you that love your bling bling!
LumeKeebs Guide:

Housing Fit: Tight
Film Recommendation: optional
Hand Lubed: optional

Material:

Top:

 

PC, transparent housing

Bottom:

 

PC, transparent housing

Stem:

 

Thermoplastic, MX stem

Specs:

Type: Linear
Actuation force: 50g
Bottom out force: 67g
Pre travel: 2.0mm
Total travel: 4.0mm
Mount: 5 pin
Lube: factory lubed
We are providing personal hand lubing service, done personally by our slick inhouse Lume Lubing expert.
Switch lubing service:

Lube used: Krytox 205G0
Springs:

 

bag lubed with Krytox 105
Film used: Lume Film series - we'll cater the film type to the switch to give you the best experience possible
Switch Sound
Share
View full details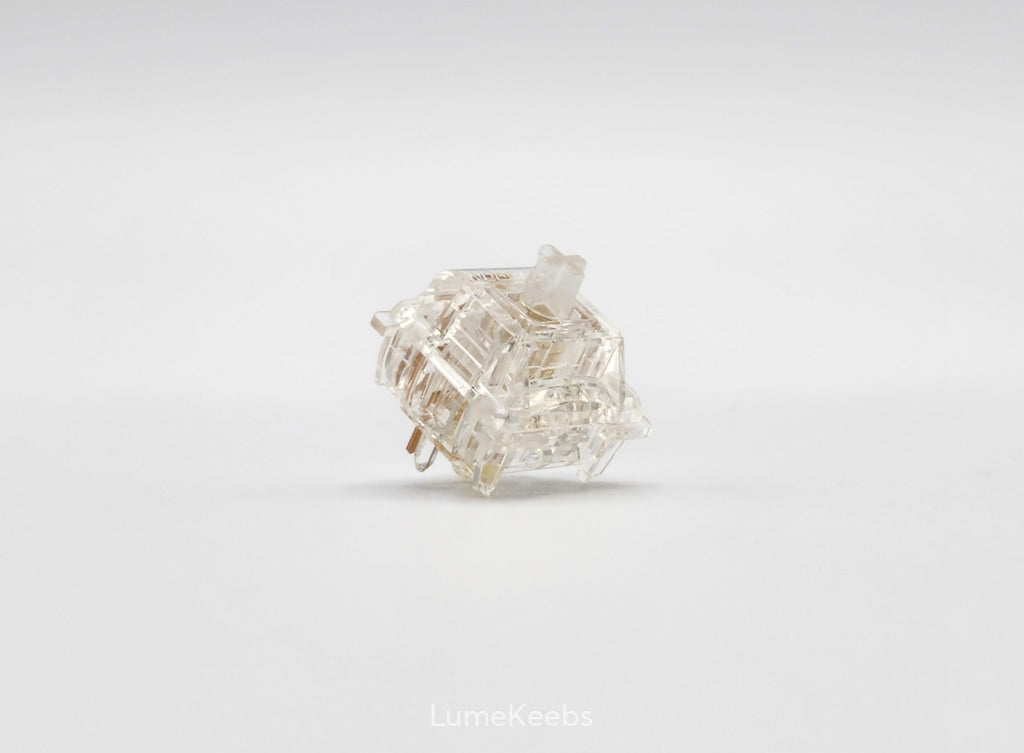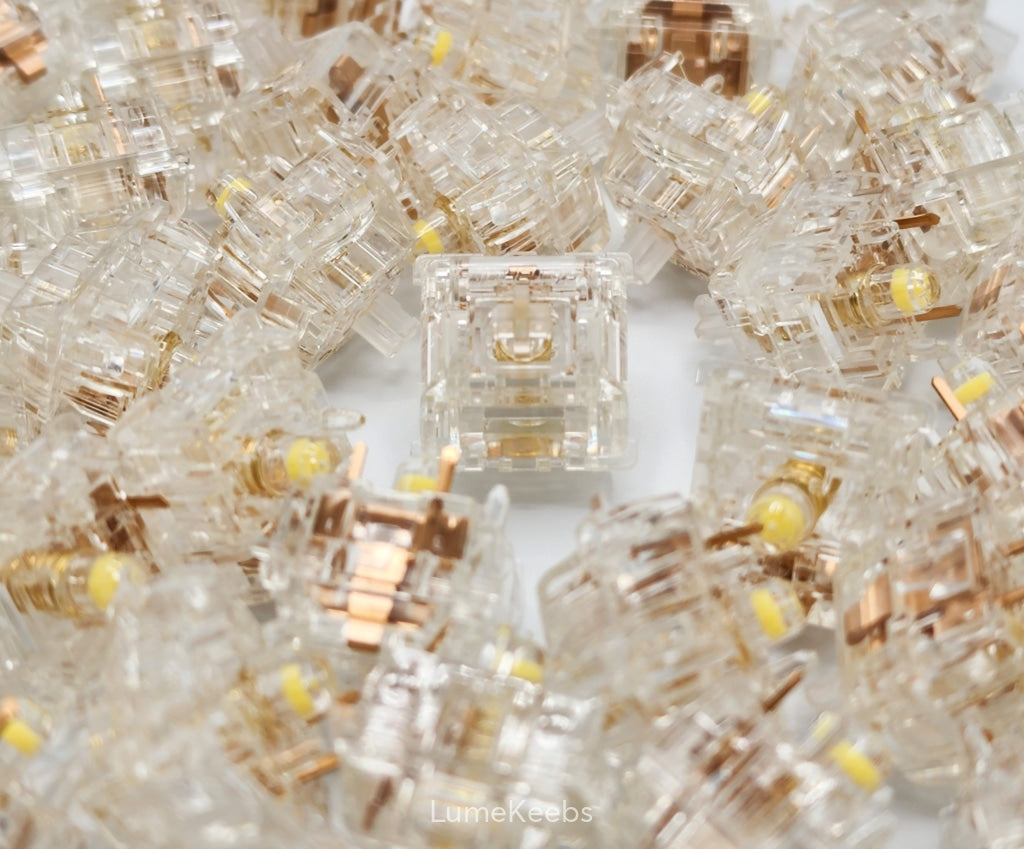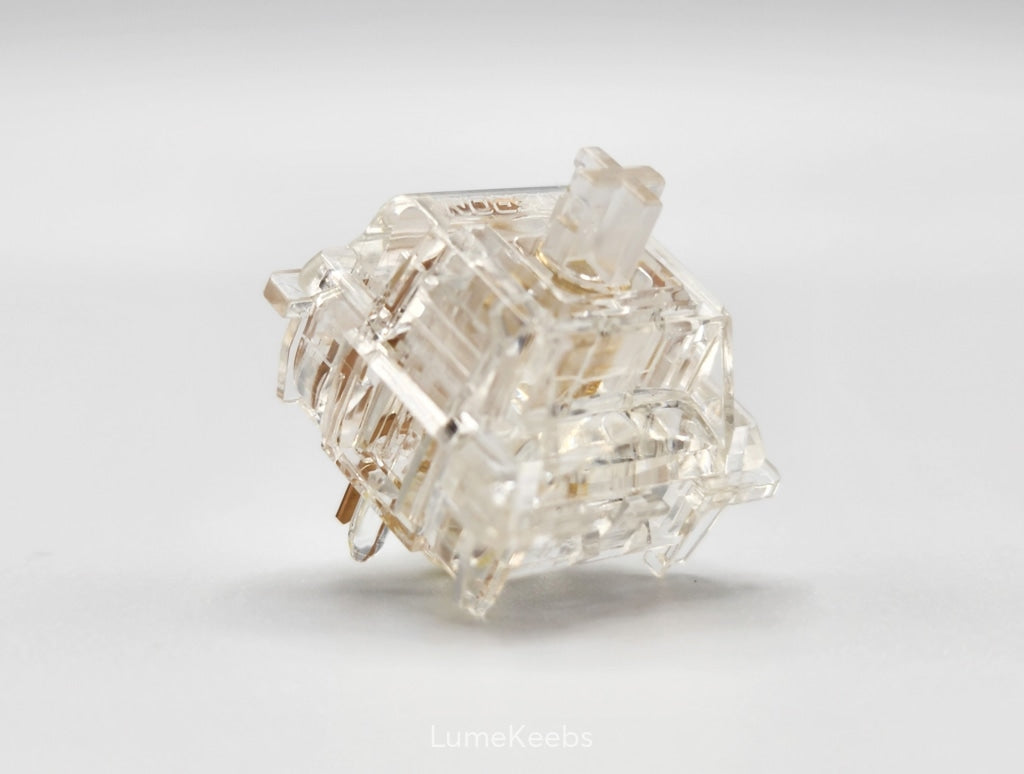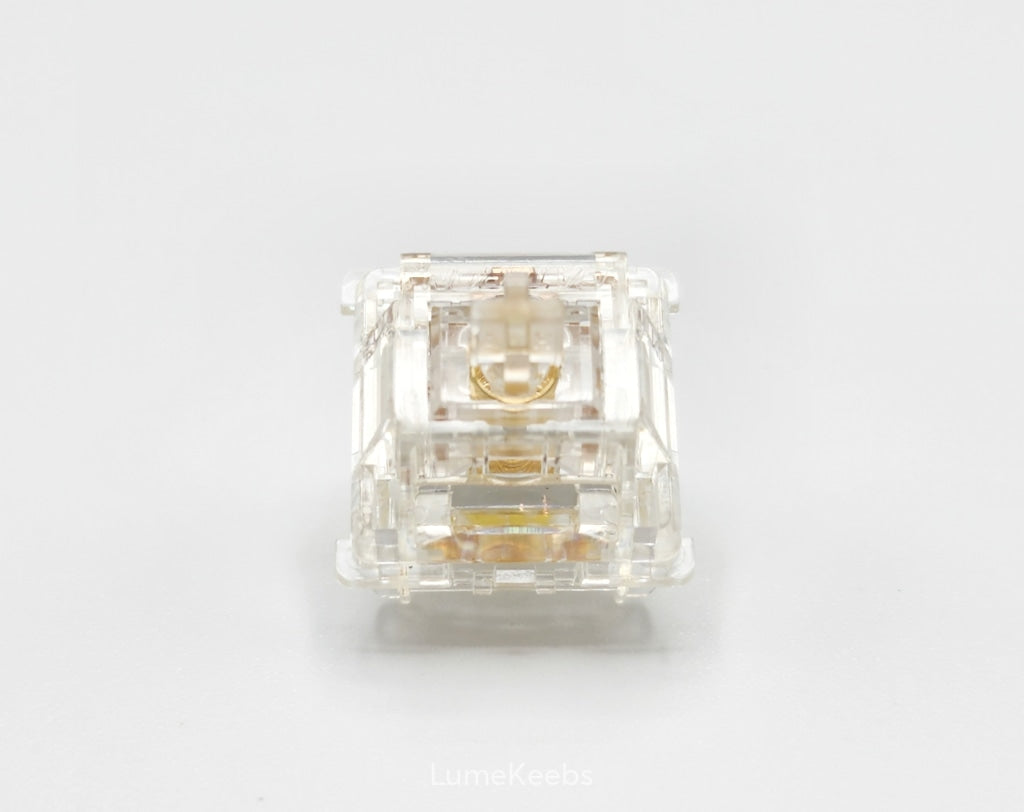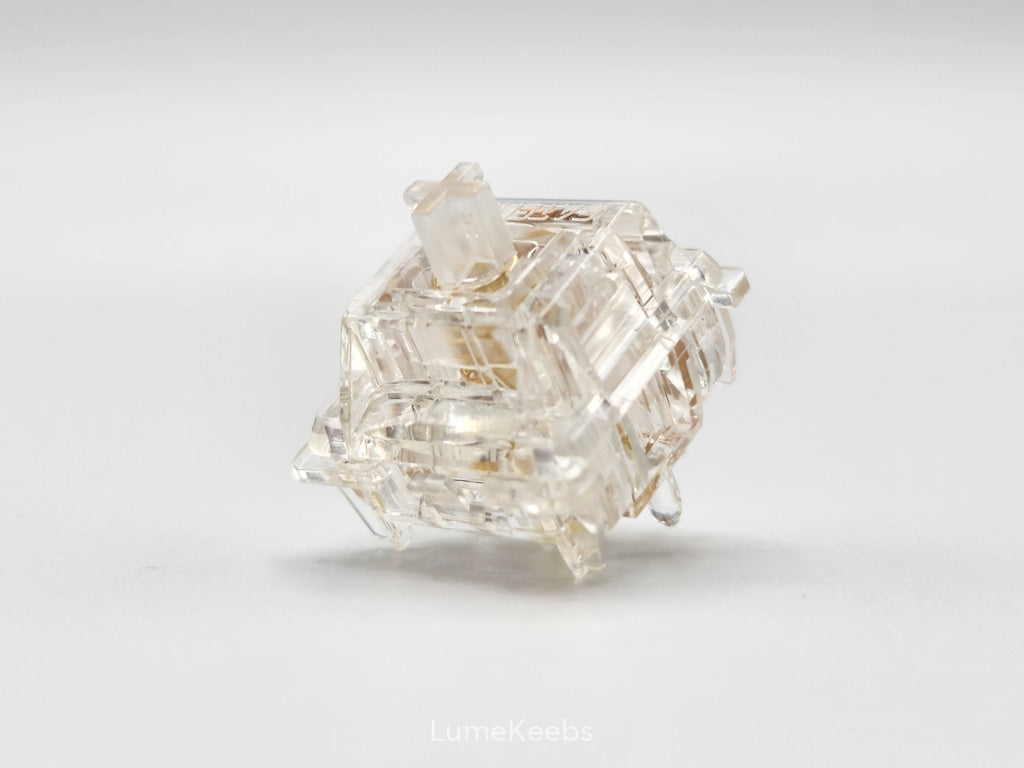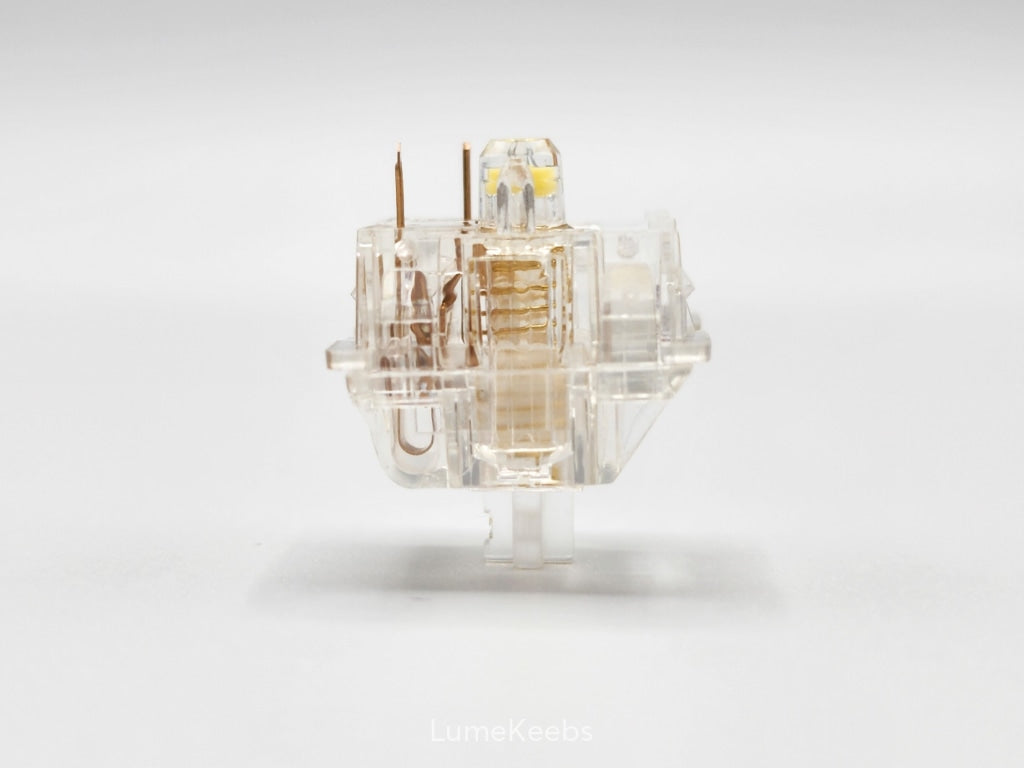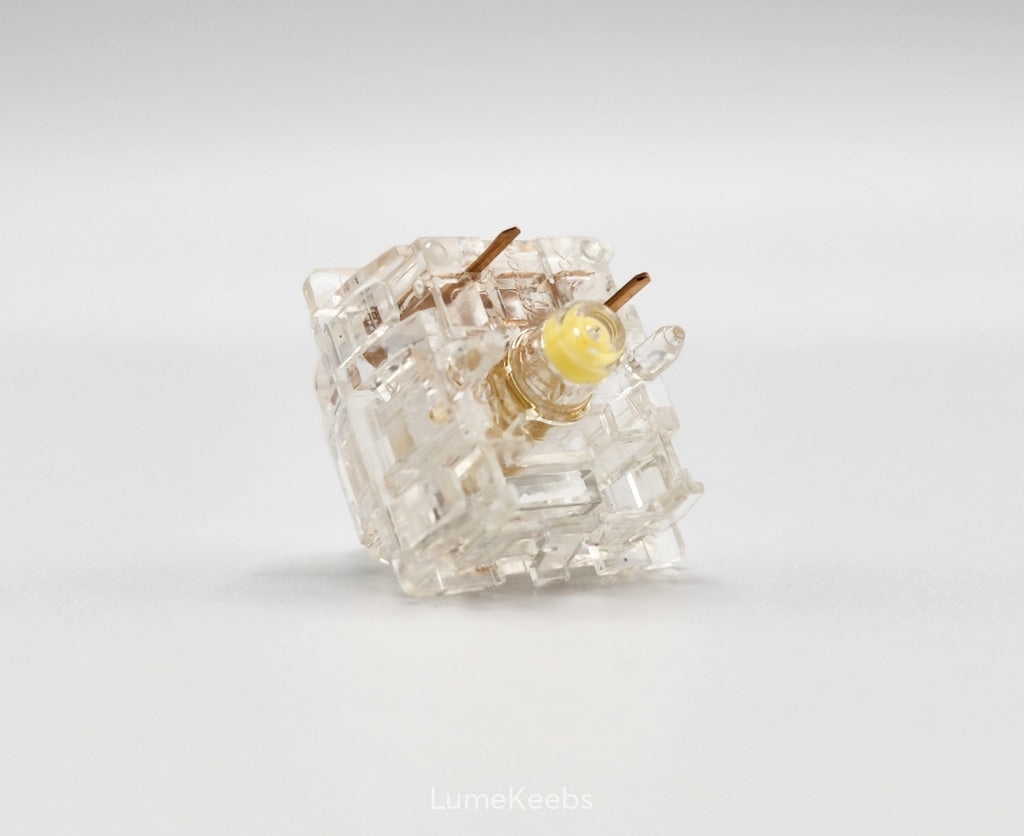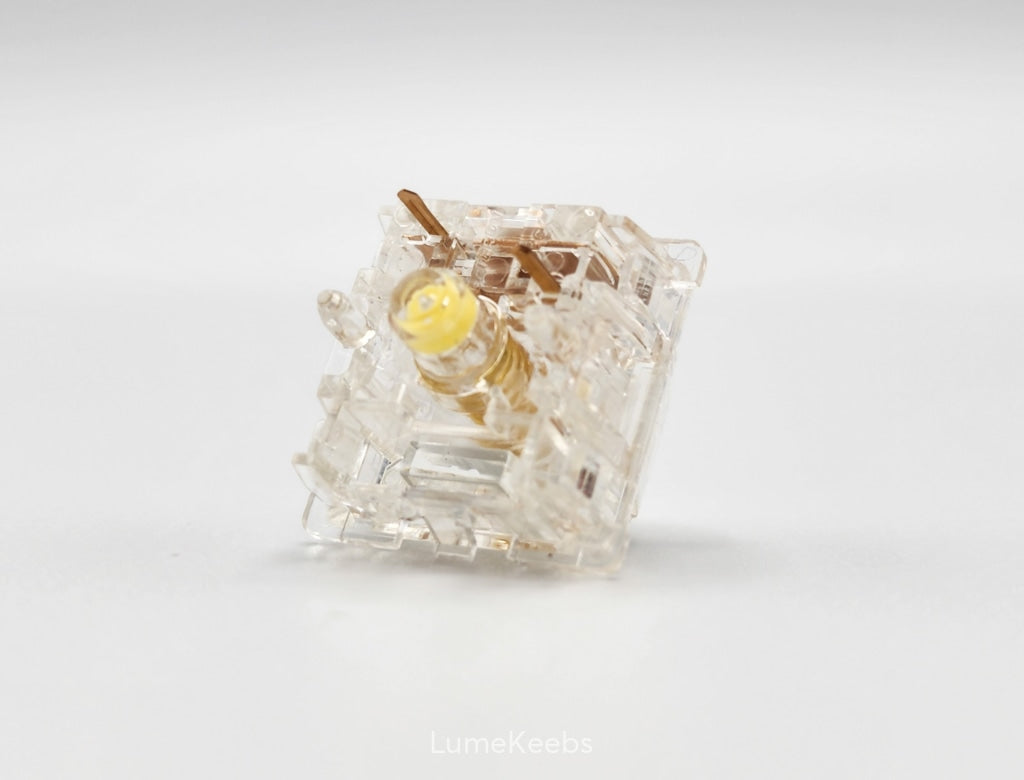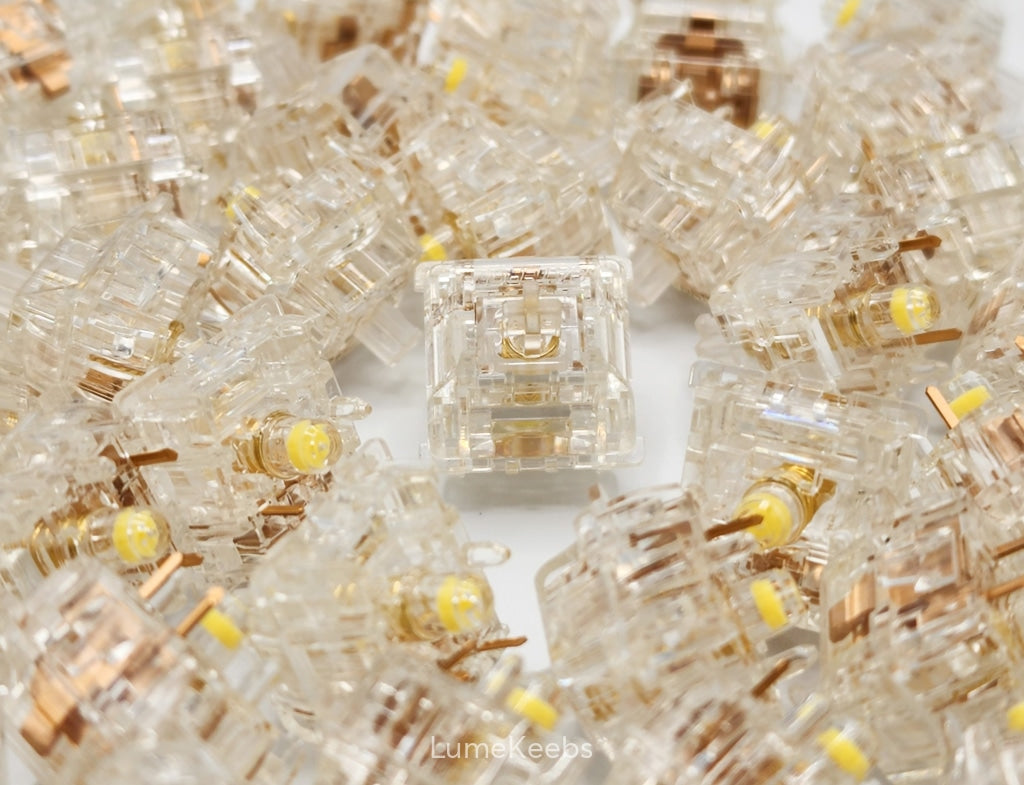 Gateron North Pole Yellow 2.0 Linear Switch
Great Linear Switch for RGB!
I have been using these switches for about a week and they are my favorite switch so far for RGB, I am a big RGB lighting fan since my job requires me to work in a dimly lighted environment. I did lube and film mine before install, but they were pretty good straight out of the bag.
Overall, the best switches I have ever experienced! Highly recommended!!
These were recommended to me by the Staff at Lume.
The North Pole 2.0's are transformative - they make my keyboard wonderful to type on! They are smooth and quiet, have perfect weighting (for me) and somehow they eliminated spacebar stabilizer noise. In fact, every key with a stabilizer is now well-behaved and quiet. I had no idea that good switches could be so transformative, as they take a good keyboard and make it a great one.
What great switches these are! Thank you so much for the recommendation!
Silent and Smooth
I love how silent and smooth this switch is. LumeKeebs made it smoother with the lube. I ordered lubed and filmed which is great if you need a good feel and a silent build. I'm satisfied with my order and I might order again to try put some switches. I switched from a stock NX browns to this on my ROG Azoth.
Smooth
These switches are smooth out of the box when stock. Stock switches come slightly factory lubed on the rails. If you lube them yourself, just try not to get it inside where the rubber dome is.
The feel of the switches feel a bit mushy upon pressing down, but it's not too bad and won't really notice it much if you don't think to hard about it.
The sound is pretty deep! It's muted on the bottom out, but going when back up it still has the sound of the OG North Poles.
If you're someone who likes more of a muted/semi-silent switch, then this is for you!
On another note, since the housings are clear, it's perfect for RGB lovers!
I have my likes and dislikes about these, but I think overtime these will eventually win me over, but in the meantime for my liking, I do like the OG North Poles better